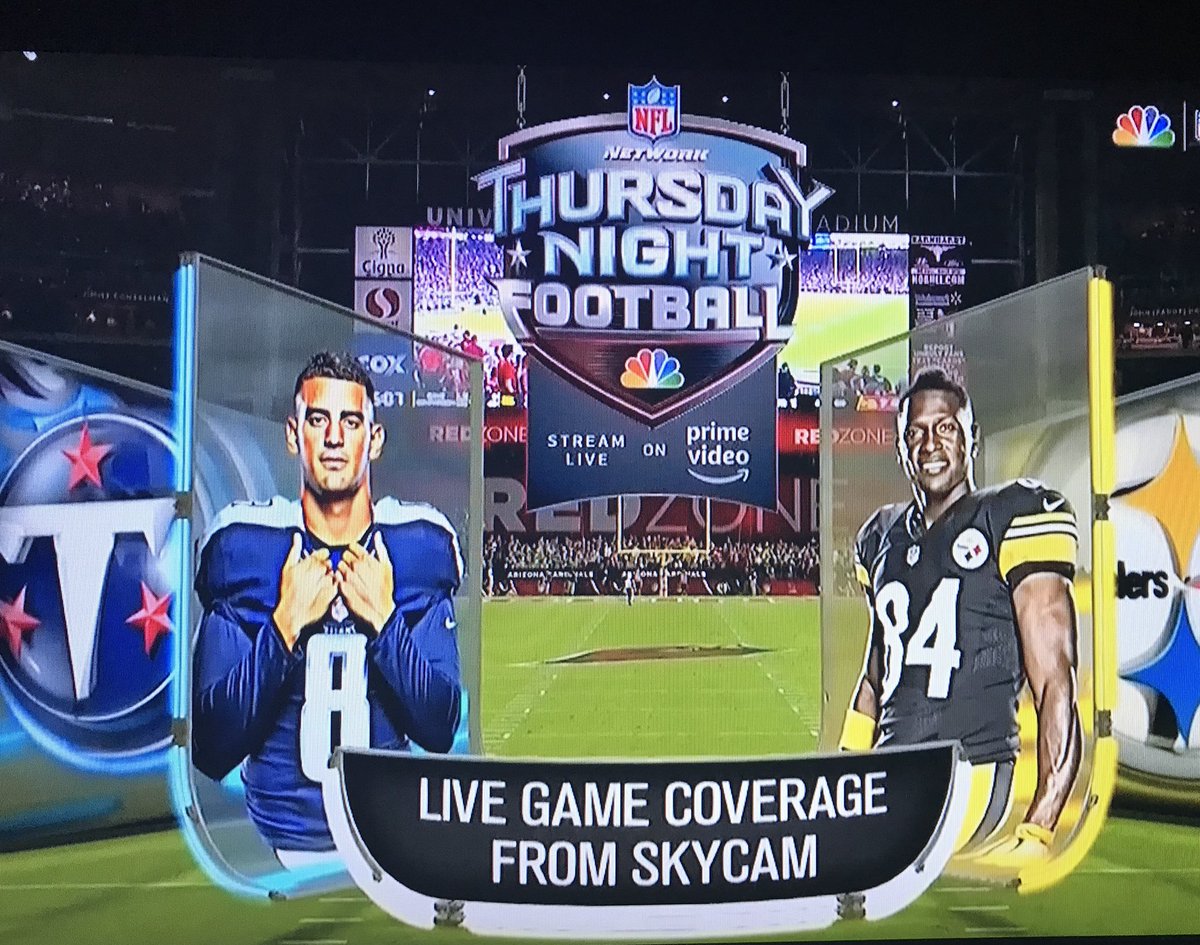 TNF:Tennessee Titans 6-3 at Pittsburgh Steelers 7-2 with the Titans seven points underdog to the Steelers maybe its just me but i think that its gonna be close.
Can't wait for this matchup on Thursday Night Football and i've actually been looking forward to this game since they first announced it when the schedule was originally released in April.
Both Tennessee and Pittsburgh have won 4 out of their last 5 games.
Since 1999 Tennessee leads the series 10-7 over Pittsburgh including a 34-31 win in OT in the 2002 NFL playoffs.
Titans Last 5 Steelers Last 5
11/12/17 vs CIN 24-20 W 11/12/17 @ IND 20-17 W
11/5/17 vs BAL 23-20 W 10/29/17 @ DET 20-15 W
10/22/17 @ CLE 12-9 W OT 10/22/17 vs CIN 29-14 W
10/16/17 vs IND 36-22 W 10/15/17 @ KC 19-13 W
10/8/17 @ MIA 16-10 L 10/8/17 vs JAX 30-9 L

Titans Offense: 18th overall (7th rush, 27th pass). Defense: 17th overall (6th rush, 19th pass).
Steelers Offense: 10th overall (18th rush, 10th pass). Defense: 2ns overall (2nd rush, 11th pass).
Combining their 8-4 finish in 2016 with their 6-3 start in 2017, the @Titans are 14-7 in their last 21 regular season games. From Week 5 of 2016 to the present, the #Titans' .667 winning percentage ranks fifth in the NFL. In that span, only the @Patriots (.857, 18-3), @Chiefs (.762, 16-5), @Cowboys (.714, 15-6) and this week's opponent, the @Steelers (.714, 15-6), have fared better than the @Titans (.667, 14-7).
Since Week 5 vs @Dolphins, the @Titans defense has allowed only 17 conversions on 3rd down in 63 attempts. The defense's third-down conversion rate of 27% leads the AFC during that span and trails only the 25.7% conversion rate the 8-1 @Eagles have allowed.
The @Titans have climbed to 10th in the NFL in red zone offense after being 31st a few weeks ago and Marcus Mariota has had three game-winning drives in a month.
In 2 career Thursday games, @Titans QB Marcus Mariota has completed 40 of 57 (70.2 pct.) with 2 TDs vs. 0 INTs for 108.9 rating & has a rush TD.
Pittsburgh marks the third straight game Tennessee is facing a top 10 pass defense.
Titans safety Kevin Byard leads the NFL with 6 interceptions and had 5 in two games the most in that span in NFL history.
Titans kicker Ryan Succop set an NFL record of successful field goals inside 50 yards with 56 straight made and that streak was broken this past weekend vs. Cincy
.
@Titans punter @brettkern6 leads the NFL with a 52.2-yard average, and a 46.0-yard net.